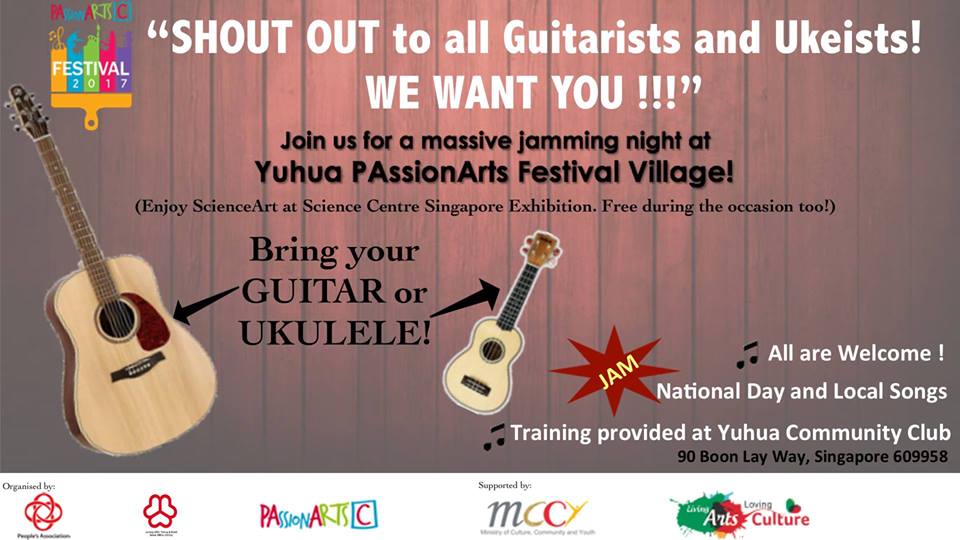 Mass Jamming organised by PAssionArts and Jurong GRC, Yuhua and Bukit Batok SMCs Community Arts and Culture Clubs.
The organiser are recruiting 500 Guitarists and 500 Ukeists for a mass jamming at Yuhua PAssionArts Festival Village at Science Centre Singapore on 5 August 5pm to 9pm!
Registration at: https://docs.google.com/forms/d/e/1FAIpQLSciX8WmqlxFOaGbiXDQMZV4Ejxo8d6UCSMg6bDP_mHinQGlMA/viewform?usp=sf_link
Free training will be provided at Yuhua Community Club.
(90 Boon Lay Way, Singapore 609958)
Popular songs such as Di Tanjong Katong and Reach out for the Skies will be played.
Additional shoutout: If you think you are able to serve as an assistant volunteer trainer, please contact Balraj at 90686543 / admin@…guitarhympia.com
Training Dates for the Assistant Volunteer Trainers are as follows:
(Assistant Volunteer Trainers are encouraged to attend at least 2 sessions)
Wed 28th June, 7.00pm – 9.30pm
Thur 29th June, 7.00pm – 9.30pm
Sun 2nd July, 9.30am – 12.00pm
Training Dates for the rest of the mass jamming participants are as follows:
(Participants are encouraged to attend as many sessions as possible, all songs will be taught at each session)
Guitarists training dates:
– Tues 4th July 7pm to 9.30 pm (2.5 hours)
Fri 7th July 7pm to 9.30 pm (2.5 hours)
Fri 14th July 7pm to 9.30 pm (2.5 hours)
Wed 2nd August 7pm to 9.30 pm (2.5 hours)
Ukeists training dates:
Wed 5th July 7pm to 9.30 pm (2.5 hours)
Wed 12th July 7pm to 9.30 pm (2.5 hours)
Tues 1st August 7pm to 9.30 pm (2.5 hours)
At actual site – Science Centre Singapore (15 Science Centre Rd, Singapore 609081)
4th August 5pm to 9 pm (4 hours) (final mass rehearsal)
5th August 4pm to 9 pm (5 hours)